Fold number 0 out of two bills
Creative gifts for birthdays can be wonderfully accommodated in the year of the birthday child or a jubilee: the age is simply folded from bills and can then be stuck on a greeting card.
In this Origami tutorial you will learn step by step how to fold the number 0 out of two Euro banknotes.

How to fold the number 0 out of two bills - Instructions with photos
For this folding guide you need two bills and maybe some adhesive tape.
In the first step you fold both bills lengthwise in the middle
Unfold the euro notes again and fold them along the middle.
Now, the lower corner is folded once forward and then back again.
Now open the bill and fold the corner inwards.
Lay the bills in front of you and fold the right part at right angles. Fold both forward and backward.
Bend the right part inwards as in the previous step.
This step is the most complicated origami folding trick.
Turn the note to the right by 90 ° and then fold once to the front and once to the back.
Now the last strip is not folded inwards but outwards. To do this, open the banknote a little and fold the bill outwards at the edges.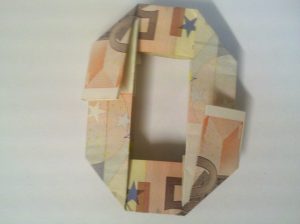 Repeat the same steps with another bill.
Now you just have to put together the two origami pieces. If you have folded clean, the bills stay largely stuck by themselves. If not, help with a little tape.
How to fold the number 0 out of two bills - instructions with video
If the pictures and the description were not meaningful enough, then you will see in this video again exactly how the 0 is folded out of the two bills.
Sorry for not finding this post helpful!
Help us improve it!
Tell us what we can improve!