Folding boots from a banknote
Winter time is boot time! Whether for Santa Claus or boots for the ski holiday - boots are particularly important at this time. Instead of a clothes voucher, just give away one or more banknotes in the form of a boot.
Also for Nicholas is a folded little boots as a nice addition to the gift!
In this tutorial you will learn how to make a nice boot with just 11 steps out of a bank note. The photos show in detail how to proceed with the folding.
If this shoe looks too complicated, then try the Santa Claus boot or a shoe with a heel:
Nicholas boot out of a bill fold
With these instructions you can fold a Santa Claus boot out of a banknote. Many photos show how the boot is folded from a bill.
How to fold a boot from a banknote - instructions with photos

Put the bill length in front of you. Fold the bill now in the middle to the right.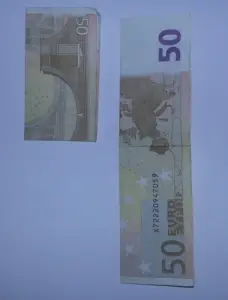 Fold the euro note in the middle to the back. Undo this folding afterwards.

Bend the front half to the right at the newly formed auxiliary fold, so that the formerly left side is now flush with the auxiliary fold.
Repeat this step with the lower part so that this time the oblique front edge is flush with the auxiliary fold.

Fold the right part back so that the front right edge is flush with the outside edge.
Now fold the back part (as in the previous step the front part) to the right.
yyyy

Now fold the back left edge flush with the auxiliary fold.
Fold the back of the origami object forward at the auxiliary fold.

Turn the money shoe a little to the left so that the sole is across from you. Then fold the small tip forward so that it is flush with the edge behind it.

In this step, the right part is folded back. Then turn the bill over and insert the point into the folded part of the shoe.
This makes the shoe stable and holds without sticking.

Put the shoe on and push the shaft slightly apart.
Bend the top of the origami shoe up a bit to get an optimal shoe.
Sorry that you did not find this post helpful!
Help us improve it!
Tell us what we can do better!