Folding rabbit out of a banknote
Animals are a nice and popular gift. Instead of a voucher money in the form of a rabbit can be presented. Especially at Easter, a bill-hare is a fitting money gift.
How to fold a simple rabbit out of a bill - instructions with photos
In this tutorial you will learn how to fold a simple rabbit out of a bank note in just a few steps.
The rabbit is not difficult to fold, only at the end it is a bit tricky. With larger bills, it is much easier.
Each photo shows two sub-steps, which are to be folded one after the other.

Put a banknote in front of you. Then fold the lower half in the middle with the edges flush and pull the kink with your fingernail.

Fold the left part of the bill in the middle on the right side. Then undo the folding. The fold only serves to mark the center of the bill for the next steps.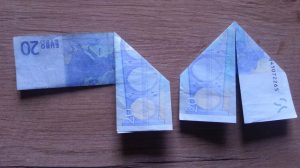 Fold down the right side of the just folded center fold (as shown). Do the same with the right side.

In this step, the two lower outer corners are folded to the middle. It should be noted that depending on the bill (which have different aspect ratios) overlaps occur at the outer corners.
yyyy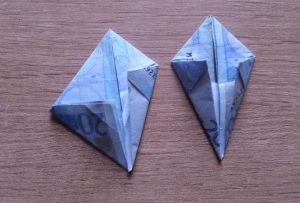 Now fold the outer sides towards the middle as in the previous step.

Turn the banknote once at 180 degrees and turn in afterwards.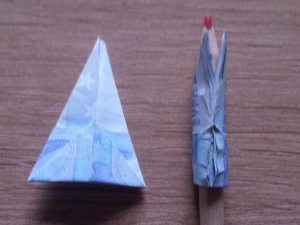 Fold the lower tip upwards.
Now comes the most complicated step of money-making, the easiest to master when using a thin pen.
Turn the outer sides around the pin so that the ends behind the pin overlap and the bill stays in shape.

This step requires the most craftsmanship: now put a tip in the pocket of the other tip. The better you have wrapped the rabbit around the pen, the easier it is to fold this folding step.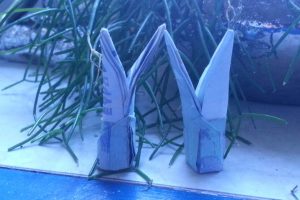 Now pluck your ears a little bit and a ready-to-use banknote bunny is in front of you.
How to fold a rabbit on a bill - instructions with video

Unfortunately there is no suitable video available for this photo tutorial.
For advanced origami hobbyists, there is a slightly more complicated hare:
Sorry that you did not find this post helpful!
Help us improve it!
Tell us what we can do better!